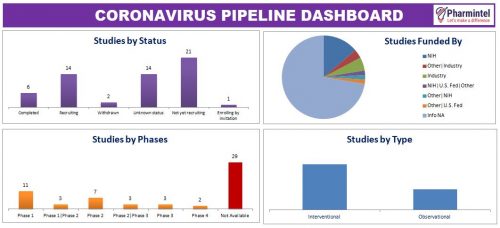 The novel coronavirus outbreak in China, Wuhan has been termed as Covid-19, is spreading rapidly to other countries and millions of lives are endangered.
This pandemic has catalyzed the development of novel coronavirus vaccines in the industry and several companies are coming up with treatment and therapy for this deadly virus.
Recently Favilavir, an anti-viral drug, as a treatment for Coronavirus has been approved by the National Medical Products Administration of China. The drug reportedly has shown efficacy in treating the disease with minimum side effects in a clinical trial including 70 patients.
Apart from that, 58 studies are in pipeline funded by government institutions and private organizations.
Zydus Cadila has launched a research programme to develop a vaccine for Covid-19 using
DNA vaccine against the viral membrane protein of the virus, while a live attenuated recombinant measles virus (rMV) vectored vaccine will be developed in the second approach
The rMV-based vaccine works by inducing specific neutraliing antibodies, which will provide protection from the coronavirus infection
Another clinical stage company, NanoViricides is developing vaccine using nanoviricide technology.
Here, is the list of vaccines and drugs being developed by industry:
Brilacidin by Innovation Pharmaceuticals
INO-4800 by Inovio Pharmaceuticals and Beijing Advaccine Biotechnology
Recombinant subunit vaccine by Clover Biopharmaceuticals
Vaxart's coronavirus vaccine
CytoDyn-leronlimab
Linear DNA Vaccine by Applied DNA Sciences and Takis Biotech
BXT-25 by BIOXYTRAN to treat late-stage acute respiratory distress syndrome
Novavax's MERS coronavirus vaccine candidate
Inovio Pharma's INO-4700
Remdesivir (GS-5734) by Gilead Sciences
Biocryst Pharma's Galidesivir, a potential antiviral for coronavirus treatment
Regeneron's REGN3048-3051
Pharmintel team has designed a dashboard to understand the pipeline of Coronavirus treatment/prevention.
For more information, please contact [email protected]